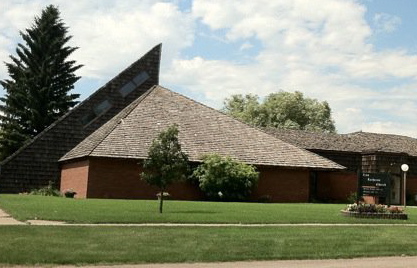 Worship at 10am
No fellowship until further notice.
We will begin our summer schedule of Joint Worship at 10am following new Guidelines for Worship.

June 28 ~ Zion August 2 ~ Carpio
July 5 ~ Carpio August 9 ~ Zion
July 12 ~ Zion August 16 ~ Carpio
July 19 ~ Carpio August 23 ~ Zion
July 26 ~ Zion August 30 ~ Carpio
Copies of weekly devotionals are available at the church.
News:
WELCOME: Devotional Home Worship for JULY 12TH, 2020.
THE PRAYER OF THE DAY: Almighty God, we thank you for planting in us the seed of your word. By your Holy Spirit help us to receive it with joy, live according to it, and grow in faith and hope and love, through Jesus Christ, our Savior and Lord.
BIBLE READINGS: (Old Testament) ISAIAH 55:10-13 PSALM 65:1-13
(New Testament) ROMANS 8:1-11 MATTHEW 13:1-9, 18-23
PASTOR'S MESSAGE:
May the grace and peace of our Heavenly Father, and our Lord and Savior Jesus Christ in the unity of the Holy Spirit be with each and every one of us. Amen!
Folk hero Johnny Appleseed moved across the heartland of America during the early western expansion of the frontier, scattering seeds and planting apple seeds. This character of American folklore is a real person named John Chapman, who was born September 26, 1774, in Leominster, British America. John is the son of Nathaniel & Elizabeth Chapman. In 1792 John persuaded a younger half brother to go west. The duo lived a nomadic life until their father brought the family west in 1805, where they met up in Ohio and farmed the land. Shortly after this John met Mr. Crawford, who had apple orchards, and he began an apprenticeship as an orchardist, thus inspiring John's life journey of planting apple seeds.
The popular image is of Johnny Appleseed spreading apple seeds randomly everywhere he went. The truth is that he actually planted nurseries rather than orchards, putting fences around them to protect them from livestock. He would then leave the nursery in the care of a family who would sell the apple trees on shares. He planted his first nursery on the banks of the Brokenstraw Creek just south of Warren, Pennsylvania.
As an older man, John was in Mansfield, Ohio, where he was listening to an itinerant missionary who was preaching on the topic of extravagance, because the pioneers were buying such indulgences as calico and imported tea. The preacher asked repeatedly, "Where now is there a man who, like the primitive Christians, is traveling to heaven barefooted and clad in coarse raiment?" Inspired by the message, John walked up to the preacher, put his bare foot on the stump that served as the preaching stand and said, "Here's your primitive Christian!" This led to a brief time of training by the Swedenborgian missionary before John would strike out on his own.
Johnny Appleseed then traveled about tending and planting apple trees and preaching the gospel to children and adults, receiving a floor to sleep on for the night and possibly supper as his payment of service. During his travels he converted many Native Americans who regarded John as someone who had been touched by the Great Spirit. Even hostile tribes left Johnny Appleseed strictly alone as this vegetarian and friend of animals moved about in his many ministry missions of preaching, planting, animal rescues, and the promotion of medicinal herbs. Needless to say, John lived a simple life style of devotion to God and the care of a steward for God's creation.
We might wonder how the people responded to Johnny Appleseed's gifts. I think that Jesus' parable of the sower gives us an idea. Jesus said, "Listen! A sower went out to sow." As Jesus explains the parable to the disciples he makes it clear that it is all about soil. And the soil is the disciples, the crowd, you and me, and all of humankind. "Listening" is the responsibility of each individual person. The "path" are those who do not understand God's Word and they simply ignore it as if it does not exist and has no importance in their life. The "rocky ground" are those who receive God's Word with joy, but when trouble of persecution arises they run away to some worldly teaching. The "thorns" are those who reject God's Word and go after the cares of the world and the lure of wealth. The "good soil" are those who accept God's Word with some understanding and who bear fruit in their living in God's Word. Clearly not everyone accepted, truthfully only about a quarter of those who knew Johnny would hold onto the teachings and ideals he would share and live.
As Jesus notes in his teachings for the disciples, so he notes for us that most will not receive or accept God's Word. But this is not to stop us from proclaiming God's Word or to discourage us from living God's Word as we relate to each other. The Apostle Paul writes, "There is therefore now no condemnation for those who are in Christ Jesus. For the law of the Spirit of life in Christ Jesus has set you free from the law of sin and of death." (Romans 8:1-2) God's Word is to be internalized, to be taken to heart, so that it can be lived out in the midst of all of life. God's Word spoken through Jeremiah said, "But this is the covenant that I will make with the house of Israel after those days, says the Lord: I will put my law within them, and I will write it on their hearts; and I will be their God, and they shall be my people. No longer shall they teach one another, or say to each other, Know the Lord, for they shall all know me, from the least of them to the greatest, says the Lord; for I will forgive their iniquity, and remember their sin no more." (Jeremiah 31:33-34)
How can this be? Again the Apostle Paul in his letter to the Romans writes, "For God has done what the law, weakened by the flesh, could not do: by sending his own Son in the likeness of sinful flesh, and to deal with sin, he condemned sin in the flesh, so that the just requirements of the law might be fulfilled in us, who walk not according to the flesh but according to the Spirit." (Romans 8:3-4) For the Apostle Paul, to be in the flesh, meant that Jesus joined in full solidarity with the fleshly, sinful world. This would mean that the death of Jesus on the cross and his resurrection from the dead would break sin's powers. It would quiet the interior conflict within us so that we might have a new way of living "according to the Spirit." Simply put, one's acceptance of God's Word and work in the death and resurrection of Jesus given us in our baptism is able to transform us in the freedom we are given in the Holy Spirit to live differently than the world might expect.
That brings me back to Johnny Appleseed who was different and who is remembered for making a difference. We could call him "good soil" as he lived life in accordance to God's Word. No, Johnny was not perfect, but he did trust in the marvelous gospel of Jesus crucified and risen from the dead that realizes forgiveness of sin and a freedom to live beyond the boundaries of this world. This folk hero of early America treasured not riches of things of fame as he walk bare food and in "coarse raiment", for he treasured the love of God and the gifts of the many relationships he could make as he encountered people.
Johnny freely proclaimed the Gospel of Jesus. He served in planting seed and caring for apple trees for the possibility of a supper and nights lodging on the floor. He befriended people different than himself, in fact, he admired the Native American people who grew to have great respect for Johnny Appleseed. He had a genuine love for animals of all types as stories abound with him mending a broken leg on a wolf, to rescuing a horse that would become well and be given to a family in need, to Johnny putting out a camp fire because he was seeing mosquitoes flying into the flames, and this all made sense for all of nature was to be under the stewardship of humankind for John as he lived his life. It seems that Johnny had learned well and accepted the Word of God in the teachings of Jesus, who said, "You shall love the Lord your God with all your heart, and with all your soul, and with all your mind. This is the greatest and first commandment. And the second is like it: You shall love your neighbor as yourself. On these two commandments hang all the law and the prophets." (Matthew 22:37-40)
I believe that Johnny Appleseed is remembered because he is "good soil." He listened and accepted God's Word. He bore fruit that would yield and at least a quarter of that fruit would also yield. Think of your legacy as "good soil" and how your fruit will yield and transform lives in the gifts of God's Spirit in Christ Jesus. Amen!
PRAY THE LORD'S PRAYER.