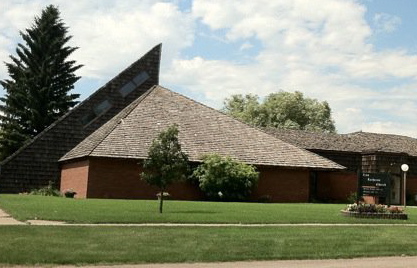 Worship at 10am
No fellowship until further notice.
We will begin our summer schedule of Joint Worship at 10am following new Guidelines for Worship.

May 17 ~ Zion ~ Graduate Regcognition
May 24 ~ Carpio
May 31 ~ Zion
Copies of weekly devotionals are available at the church.
News:
WELCOME: Devotional Home Worship for MAY 24, 2020. 7TH SUNDAY OF EASTER
THE PRAYER OF THE DAY: O God of glory, your Son Jesus Christ suffered for us and ascended to your right hand. Unite us with Christ and each other in suffering and in joy, that all the world may be drawn into your bountiful presence, through Jesus Christ, our Savior and Lord, who lives and reigns with you and the Holy Spirit, one God, now and forever. Amen!
BIBLE READINGS: (Old Testament) PSALM 68:1-10, 32-35
(New Testament) ACTS 1;6-14 1ST PETER 4:12-14; 5:6-11 JOHN 17:1-11
PASTOR'S MESSAGE: ALLELUIA! CHRIST JESUS IS RISEN FROM THE DEAD!
May the Grace and Peace from our Heavenly Father and our Lord Jesus Christ, in the unity of the Holy Spirit, be with each of you.
It is now the seventh Sunday of the Jesus resurrection from the dead celebration. Our focus gaze is now looking up since last Thursday's Ascension of Jesus into heaven. This is important to note, because some people are looking in the wrong direction for guidance in life. There are those who pride themselves in looking down upon others. Then there are those who are often looking back at what has been. Today's scripture would have us look up to Jesus, the suffering servant who was lifted up on a cross and crucified, risen from the dead, ascended into heaven, and is ever living. On this Memorial Day weekend, you and I are being called into and ascending view of life.
The Apostle Peter put it this way in his first letter: "Beloved, do not be surprised at the fiery ordeal that is taking place among you to test you, as though something strange were happening to you. But rejoice insofar as you are sharing Christ's sufferings, so that you may also be glad and shout for Joy when his glory is revealed." (1ST Peter 4:12-13) Peter is here sharpening the focus of the Church to be an upward look to Jesus, who is the way, and the truth, and the life. And for John McCrae, it seems that he was guided by such an upward vision of Jesus.
John McCrae was a poet and physician from Guelph, Ontario. At the age of 41, McCrae enrolled with the Canadian Expeditionary Force following the outbreak of the First World War. He had the option of joining the medical corps because of his training and age, but he volunteered instead to join a fighting unit as a gunner and medical officer. This would be his second tour of duty in the Canadian military. He had previously fought with a volunteer force in the Second Boer War. Having a father who was a military leader, McCrae considered himself a soldier first growing up believing in the duty of serving his country and the British empire.
During the First World War, McCrae fought in the Second Battle of Ypres in the Flanders region of Belgium. It was where the German army launched one of the first chemical attacks in the history of war. The battle line for Ypres held for over two weeks as the Germans were not able to break through. In a letter to his mother, McCrae described the battle as a nightmare, "For seventeen days and seventeen nights none of us have had our clothes off, nor even our boots. In all that time while I was awake, gunfire and rifle fire never ceased for sixty seconds. And behind it all was the constant background of the sights of the dead, the wounded, the maimed, and a terrible anxiety lest the line should give way."
A close friend of McCrae's, Alexis Helmer, was killed during the battle near Ypres on May 2ND. McCrae performed the burial service himself, at which time he noted how poppies quickly grew around the graves of those who died. The next day, McCrae composed the poem while sitting in the back of an ambulance at an Advanced Dressing Station just outside of Ypres. In Flanders fields the poppies grow
Between the crosses, row on row,
That mark our place; and in the sky
The larks, still bravely singing, fly
Scarce heard amid the guns below.
We are the dead. Short days ago
We lived, felt dawn, saw sunset glow,
Loved and were loved, and now we lie
In Flanders fields.
Take up our quarrel with the foe;
To you from failing hands we throw
The torch; be yours to hold it high.
If ye break faith with us who die
We shall not sleep, though poppies grow
In Flanders fields.
Like McCrae, Jesus Christ prays of a sacrifice given and a call to duty for the living to press on. The Apostle John in his Gospel quotes Jesus' prayer, "Father, the hour has come; glorify your Son so that the Son may glorify you, since you have given him authority over all people, to give eternal life to all whom you have given him. And this is eternal life that they may know you, the only true God, and Jesus Christ whom you have sent." (John 17:2-3) Simply put, our focus cannot be on the suffering of a "fiery ordeal" or the "failing hands" of the dead, but must be upward upon the resurrected and ascended Christ Jesus.
Like McCrae and so many unnumbered men and women who have lived before us, so we too have our lives altered by a horrific foe that seeks to devour us. Like these whom we honor on Memorial Day, we must humble ourselves under the mighty hand of God to faithfully serve in an ascending view of life.
Just how do we do this? First, cast all your anxiety on Jesus. God truly does care. Jesus said, "Are not two sparrows sold for a penny? Yet not one of them will fall to the ground apart from your Father. And even the hairs of your head are all counted. So do not be afraid; you are of more value than many sparrows." (Matthew 10:29-31)
Second, discipline yourself by maintaining a relationship with the living Word of God in Christ Jesus. In prayer, Bible Study, and worship we come to realize as the Psalmist, "Thy Word is a lamp unto my feet and a light unto my path." (Psalm 119:105)
Finally, be steadfast in your faith. When all is said and done, at the end is God. In the unity of the Holy Spirit trust the Father in Heaven with giving you the sacrificial gift of a Beloved Son, Jesus Christ. You and I are one with the brothers and sisters of the world who are undergoing the same kind of suffering as we are. And the Apostle Peter goes on by saying, "And after you have suffered for a little while, the God of all grace, who has called you to his eternal glory in Christ, will himself restore, support, strengthen, and establish you. To him be the power forever and ever. Amen!" (1ST Peter 5:10-11)
Life is never about quantity; rather, it is about quality. Eternal life is not a length of life, it is life in the relationship you have with an Eternal God, who for a brief time became flesh and blood, giving us his body and blood, so that you and I may be one with him. What comfort and joy is ours that Jesus would pray for you and me on this Memorial Day weekend that is amid a COVID-19 pandemic. "Holy Father, protect them in your name that you have given me, so that they may be one, as we are one." (John 17:11)
Alleluia! Christ Jesus is risen from the dead! Like McCrae and so many brothers and sisters who have lived before us, let us also keep the faith with an upward vision and an ascending view of life that will say, "We shall not all sleep, though poppies grow in Flanders fields."
PRAY THE LORD'S PRAYER